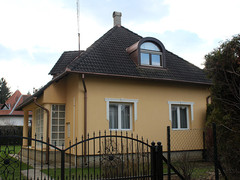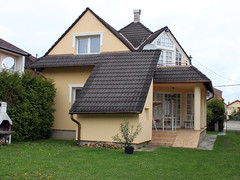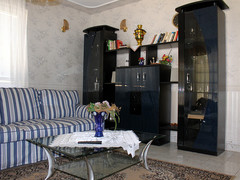 Rest in comfort with unspoiled freedom and privacy for the whole family, or your friends in our holiday let house in Zalakaros. An entire holiday house is let throughout the year, without having to share any part of it with anyone else.
Location
Our vacation rental holiday villa is located on its own building plot in a quiet greenbelt location near the town center in a small cul-de-sac, just around the corner from our apartment lettings. Zalakaros downtown and spa are only a few hundred meters away, well within walking distance. All important businesses and entertainment can be found in the immediate vicinity.
Zalakaros Spa: approx. 10 minutes walk (few minutes by car with free parking in town)
Town Center: approx. 5 minutes on foot
Supermarket: 500m (8 minutes walking)
Zalakaros park and cinema: 300m - 5 minutes walking, Forest and Viewing Tower 15-20 minutes walking
Restaurant, Pubs and Cafes: the nearest ones are 200m (2 minutes) with several others in the vicinity or in the town
Amenities
The layout of our holiday home is ideal for families with children or groups of adults traveling together, from four to as many as eight persons. We let the whole house as one unit, offering complete privacy for an undisturbed, relaxing holiday.
The holiday home has two floors and features a large living room (with a pull out sofa) an open plan kitchen-diner and a bathroom on the ground floor. Upstairs there are two bedrooms, one with a king and a single bed, the other with a queen size bed, a small living room (with a pull-out sofa) and a second bathroom. The most impressive design feature of the house is its sunlit dining room and large patio on the ground floor, a perfect venue for cozy breakfasts or dinners with wine.
This house comes with its own landscaped garden with deck chairs, sun beds, and barbecue at your (and only your) disposal.
Equipment
When designing our holiday lettings we have put great emphasis on making sure they will offer a comfortable and restful accommodation with all necessities of a perfect holiday for your travel to Zalakaros. Based on feedback from our kind guests we continuously improve and renew all equipment and update everything.
The house is fully furnished in its unique contemporary design, and equipped with everything you will need during the holidays, including:
Wireless Internet
New! Air conditioning in the bedrooms
Flat screen TV (satellite)
Radio and CD player
Equipped Kitchen: refrigerator, coffee maker, toaster, microwave, etc.
For your valuables: lockable safe
Bed linen and towels
Our house is equipped with energy efficient gas central heating, so it can be available for rent throughout the whole year, and you don't need to worry about a cold night in spring or autumn. We provide free parking spaces in the yard behind a locked gate.
Who do we recommend it for?
Our guesthouse, being so private, generously sized and self contained is an excellent choice for a larger family or friends traveling together. It is quite a unique opportunity even in Zalakaros to be able to rent an entire accommodation that does not have to be shared with anyone, together with a private garden.
Our holiday villa offers exceptional comfort as well as freedom and peace of mind. In its multiple bedrooms everyone can sleep separated without disturbing each other. You can use its full-sized kitchen to prepare any meal, be it breakfast or dinner, and enjoy dining in its sunlit diner or the large patio with their special outdoors atmosphere on warm summer nights. If you do not cook you can choose from a range of Zalakaros restaurants and let the living room and the garden give you much more space than any hotel room for joint programs, family games or socializing.