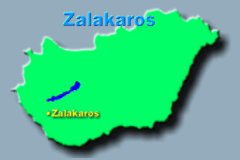 Welcome to the ORWA Zalakaros website. ORWA is a small family business that offers private lodging to let in Zalakaros. We have eight self-catering apartments and a holiday lodge available for rent in Zalakaros where we welcome our guests all year round.
The lovely spa town Zalakaros is located in the south western part of Hungary, 200 kilometres from Budapest, just off the M7 motorway. By now the Zalakaros spa has more than 50 years of history and has become world-famous. Its thermal water is perfectly suitable for various neurological and musculoskeletal problems. The quiet, green surroundings of Zalakaros make it an excellent choice not only for healing but also for rest and relaxation.
The most popular type of accommodation in Zalakaros are private apartments and holiday homes, not only because of their prices which are lower than hotels', but also because they can offer better comfort and flexibility for the holiday. Our vacation rental properties are in the town center, but still in green surroundings. Our holiday apartments are situated in two neighbouring apartment-houses, and we also let a holiday guest house in their immediate vicinity. which is an excellent choice if you plan to travel with a larger company or family.
Self-Catering Holiday Apartments


Our self-catering apartments are a few minutes walk from the town center and spa, in Cédrus Street. All apartments we let have a separate bedroom and offer more than 600 sq. ft. of living space, the size of a city flat. An apartment offers ideal holiday living for a typical family, or 3-4 adults with a bedroom, living room, open-plan kitchen and bathroom. Given their generous size our vacation rentals are a really good choice for a week or multiple weeks of holiday, as you can live in them as if they were your own home.
The Spa of Zalakaros is accessible on foot or by car, and there are several restaurants, wine bars and food markets nearby. Our well-kept courtyard is ideal for outdoor activities or for grilling and socialising with friends.
When designing and equipping our properties we have put great emphasis on comfort and modern features. Each holiday home has free wireless (WiFi) network, and in this year we have also equipped our upstairs apartments with air conditioning that will enable our guests to sleep undisturbed even in the highest heat of summer.
Private House for Vacation Rental

Our holiday home is a perfect choice for the vacation of larger families or groups of friends (6-8 people) holiday, or those seeking privacy for a relaxing holiday. You can live independently in complete privacy in a detached holiday home, with all the comfort a whole house. Its three rooms (living room and two bedrooms) can easily accomodate multiple people, and in the lower level, the family can dine together and socialise in the large sunny dining room or living room.
Our private vacation rental is also equipped with free Wi-Fi network so that the fun is also guaranteed for the younger generation. This year we have installed air conditioning in the bedrooms, which will make even the biggest summer heat very comfortable.
With the house we also let its entire private garden, which has deck chairs, garden furniture and a barbecue, perfect for drinking wine or grilling in the evenings.
Why choose us?
Zalakaros is undeniably overwhelmed by a large selection of different private accommodations, hotels and homes to let, but the quality of these holiday homes is varying to a large degree. We are sure that you will not be disappointed if you choose us. Firstly, all of our accommodations are priced very reasonably, not only compared to hotel rooms, but also other private homes in the town. On the other hand, the size and modern equipment, great quality of finish of our holiday homes is outstanding in comparison. We make sure that every year something gets updated, and that we pay a lot of attention to our guests giving them practical advice and assistance to make sure their holiday is as they wish it to be.
We sincerely hope that our offer meets your expectations, and we will soon be able to welcome you among our regular guests!